Driving the sustainability agenda with Grundfos
Industry
Smart Building & IoT
The Background
Grundfos is one of the world's leading suppliers of solutions across the full range of pump applications – all the way from water supply to wastewater discharge.
Grundfos' goal is to understand the building as a whole in order to provide customers with intelligent solutions that achieve a higher level of performance in their systems. This approach has made them a preferred partner for contractors, consulting engineers and building owners looking to build the most sustainable and efficient commercial buildings in the world.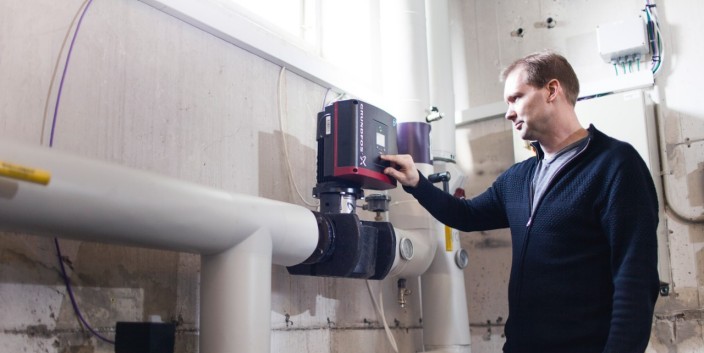 The Need
Grundfos wants to make the world a better place within their industry and therefore, the UN's 2030 Sustainable Development Goals are very important to them, especially Goal 6 – Clean Water & Sanitation, and Goal 13 – Climate Action. Building a new solution is part of their goal to lower the carbon footprint by optimizing the energy being used by their customers.
A main pain point for companies running large building facilities, such as hotels, is that it requires a lot of manual work related to managing them.
Some of the needs for this solution were:
Eliminate tedious and manual tasks
Reduce energy costs with real-time optimization
Reduce downtime through continuous monitoring
Improve the green footprint of buildings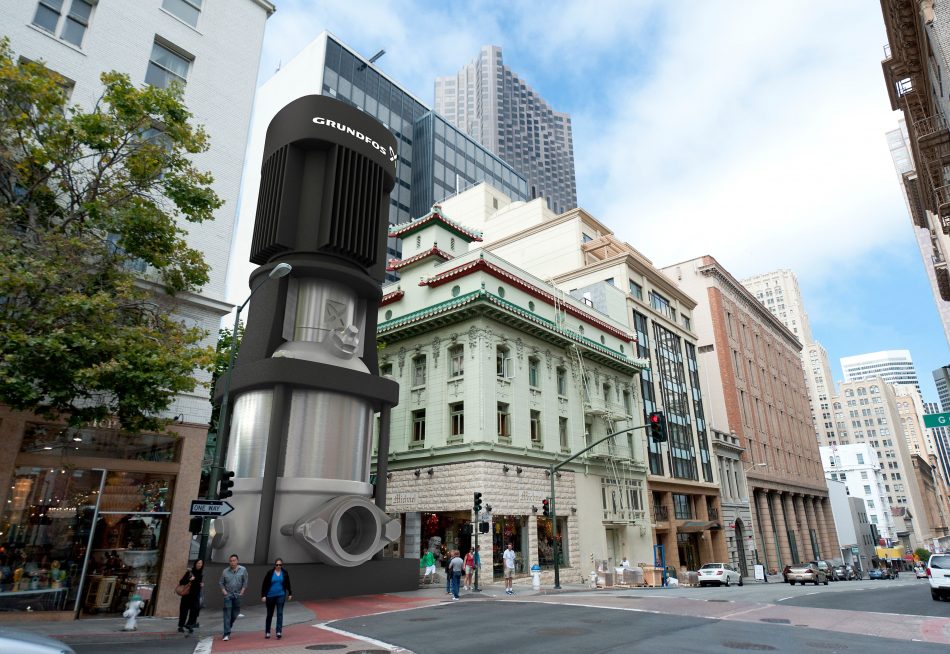 The Solution
Through a truly collaborative approach between Grundfos and Trifork, the Grundfos BuildingConnect was built. This IoT solution is for commercial buildings, offering intelligent alarms and continuous optimisation of a plant room's HVAC system and altogether easing of workloads.
The data is presented in an intuitive dashboard to provide users with a comprehensive overview of all buildings with site information, system schematic, actual values, settings, trend curves, and intelligent alarms.
The solution allows users to control as many mixing loops and heat exchangers as required. If there is something in the system that requires attention, alarms, warnings and notifications on events are sent. Each of which comes with a description of cause, impact and potential remedy.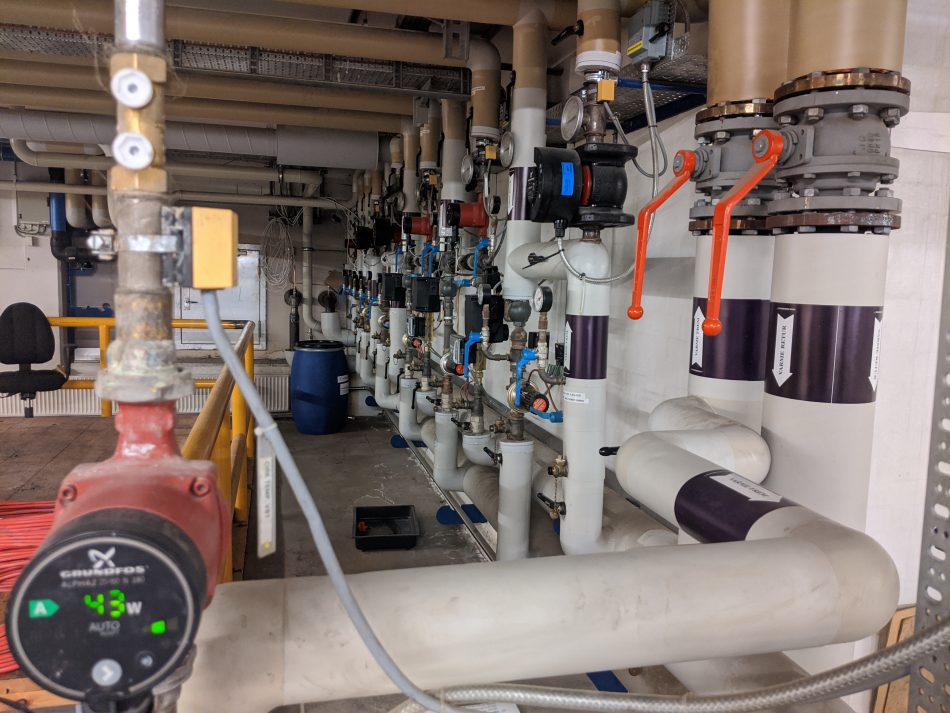 The system consists of a Grundfos hardware and software package that provides real-time monitoring and control of the HVAC installations via Grundfos iSolutions Cloud.
The system also helps facility managers control and monitor their HVAC installation by connecting to equipment such as HVAC pumps, energy meters, valves and temperature sensors.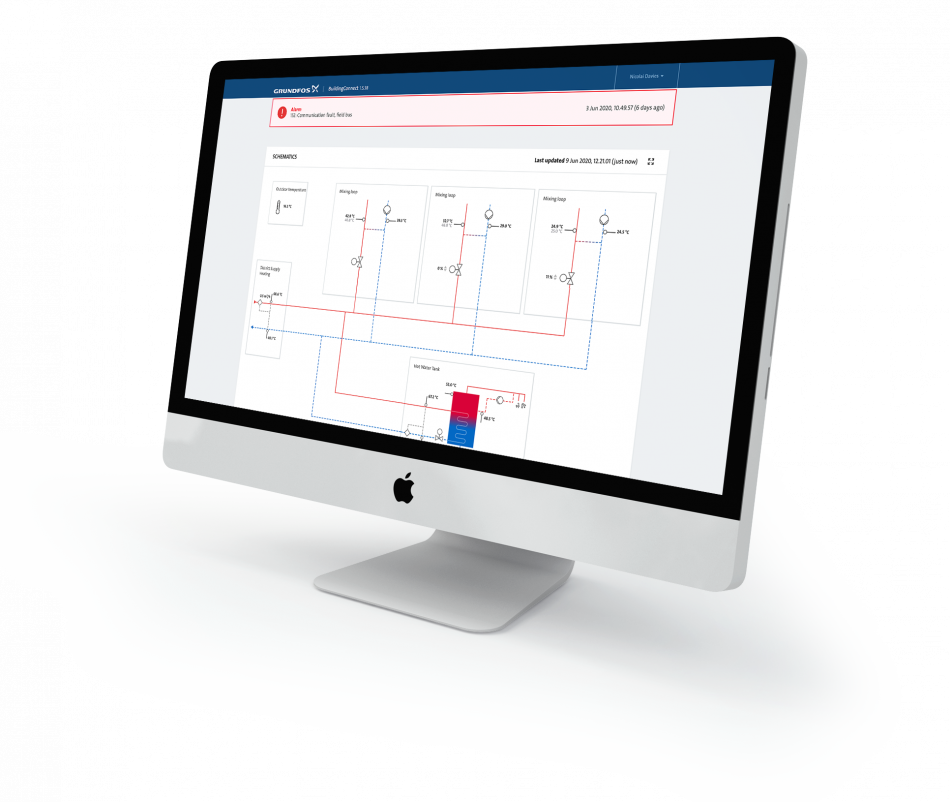 Trifork has been an important partner in kickstarting our IoT development and is now helping us grow our own internal development capacity.
The Result
Grundfos BuildingConnect went live in the spring of 2020 with their first customer, Østergaards Hotel, in Denmark, and is now being rolled out to a series of new customers.
Aside from helping Grundfos kick-start this important step in their digital transformation, Trifork also helped them build:
The IoT Cloud solution including functionality for data gathering, processing, storage and delivery of data for the other parts of the system. The solution is developed and runs on Azure, but design and infrastructure steps have been made so that it is possible to run the solution in a multi-cloud setup
The firmware that runs on the controllers
A tool for easily creating a model of the customers setup, which is used in all the other components of the solution
The customer facing web-based user interface as well as an internal management portal for the solution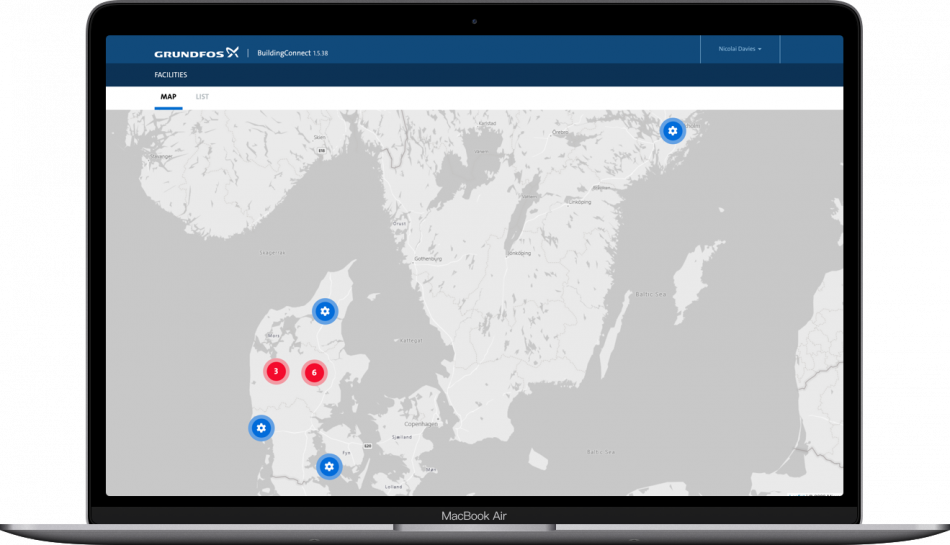 Overall, Grundfos' goal is not only to optimize work efficiency and cost saving for their customers, but to positively impact the climate in the smartest way possible.
By working as a truly integrated part of the team, Trifork shared a sense of ownership and responsibility for seeing the project through. It is in our DNA to develop market-leading solutions for the future and our customers success is our success.
Trifork Smart Building & IoT takes pride in being a long-term strategic partner to Grundfos and with our technical knowledge and attitude and their domain expertise, it was a winning combination for getting this project off the ground.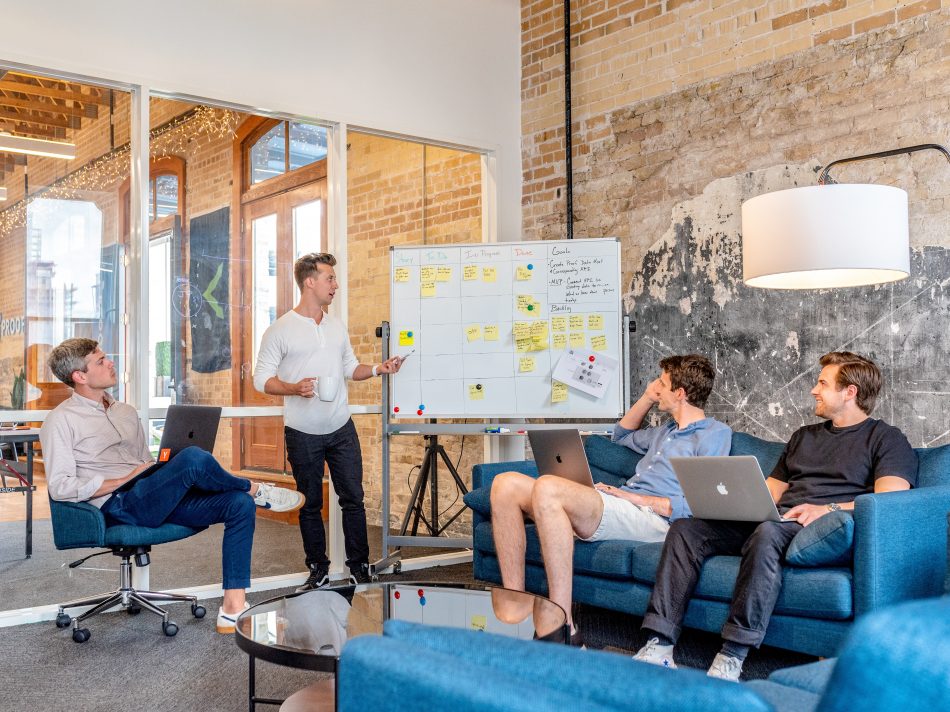 CCO Smart Buildings & IoT
Søren Eskildsen