Documenting sustainable fishing with user-friendly iOS
The Challenge
In Greenland, 2,200 independent fishermen in small boats make a living from line-catching fish in a truly sustainable way. When they off-load their fish at one of Royal Greenland's 37 procurement locations, papers change hands, and all data is entered manually by Royal Greenland employees who process DKK 4 billion worth of fish annually.
The fishermen do, however, struggle with documenting where and how they caught their fish, making it difficult to obtain and document mainly legal-, but also business- and customer requirements and for some species, the highly coveted MSC certification of their catch with their current pen and paper registrations.
While Royal Greenland has made great strides to support sustainable fishing and continuously improve conditions for the local fishermen that supply Royal Greenland with line-caught fish, they have been searching for ways of optimizing the process of documenting compliance with governmental requirements to make it easier to obtain the MSC certification of the applicable part of the catch.
See the Results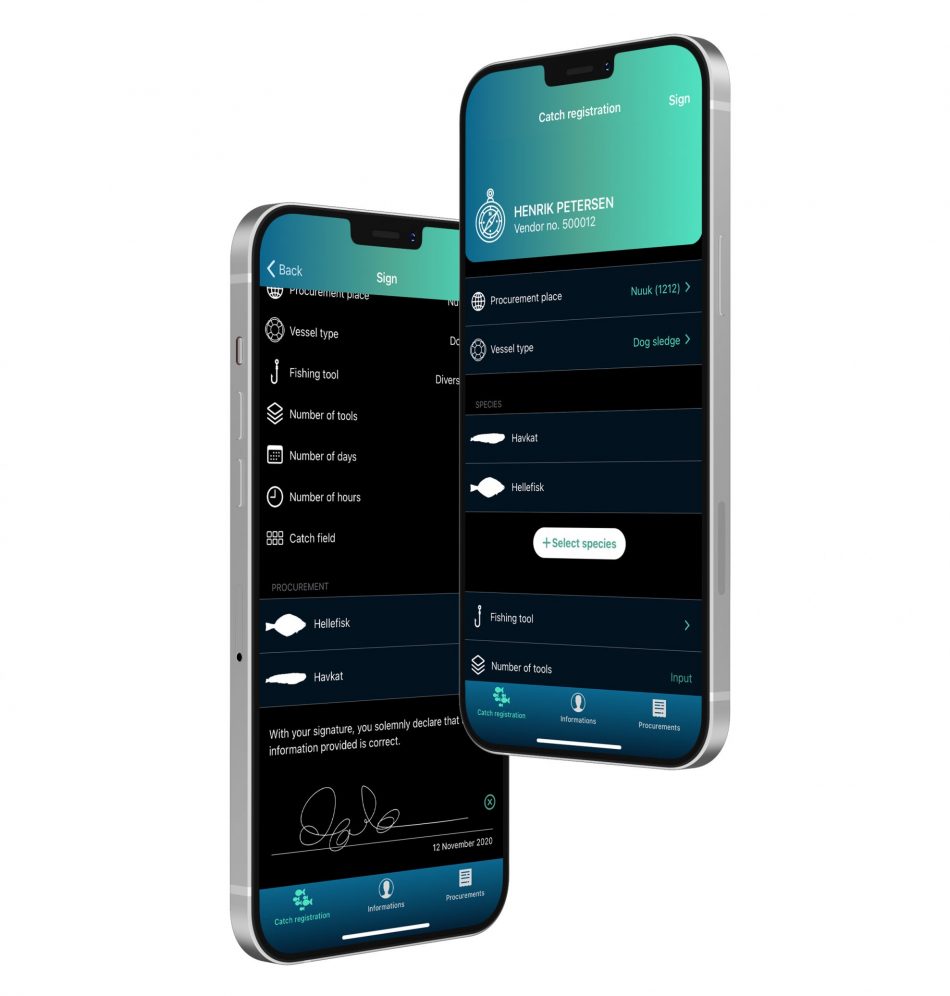 The Solution 
Royal Greenland has created a digital solution that transforms pen and paper processes into purely digital transactions. The solution is a highly intuitive and user-friendly iOS based native app for iPhone that enables fishermen to submit their catch data fast and easy, even with limited smartphone experience through an extended use of pictograms.
The app makes it possible for the fishermen to submit legally required signatures digitally and it validates relevant licenses for specific species when reporting data from catch fields. Digital signatures require high level of security, and calculations showed that the most cost-efficient solution was to develop an iOS app that is protected by Apple privacy settings and simply provides the local fishermen with iPhones through a collaboration with ATEA.
To support the circular flow of data between the fishermen and Royal Greenland, two additional apps have been launched:
An iOS based native app for iPads that enables seamless registration of data in regard to the fishermen's catch at the procurement location: Texture, quality, temperature and weight of the fish delivered is easily entered by the Royal Greenland.
A web-based app developed specifically for the Royal Greenland back office staff, in which they approve the procurements made based on input from the two iOS apps. With this data, they create the relevant purchase orders that is automatically shared with the relevant fishermen, and they update the stock information. The new web app reduces risk of errors and ensures fulfilment of legal requirements on registration that used to be a pen and paper task.
The maintenance and full monitoring of the business-critical applications is covered by Trifork Smart Enterprise through the Total Cost of Ownership program.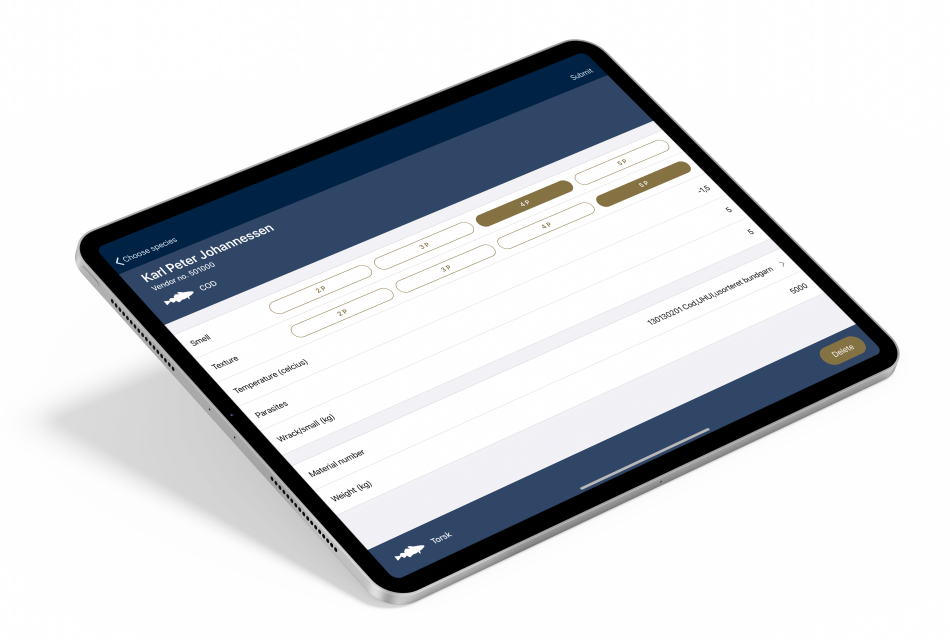 "With these groundbreaking apps, Royal Greenland strengthen our supplier loyalty, optimize internal processes and help local fishermen prove that they fulfill the sustainability requirements that allow them to obtain higher price for their catch."
The Results
The app suite is the result of an intensive digital design phase that included fieldresearch, design thinking workshops and concept validation/usertest with Royal Greenland's end users – the local fishermen.
The solution has succeeded in solidifying Royal Greenland's supplier relationship with the local fishermen and streamline the entire procurement process.
With their end users as the focal point, Royal Greenland harvests business optimization benefits through digital transformation:
Increase documented quality of goods
Full compliance with governmental regulations
Optimize time spent on registration
Improve pricing through MSC certifications
Build loyalty amongst local fishermen
Perfect match between staff allocation and incoming amounts of fish at procurement locations
Create strong market position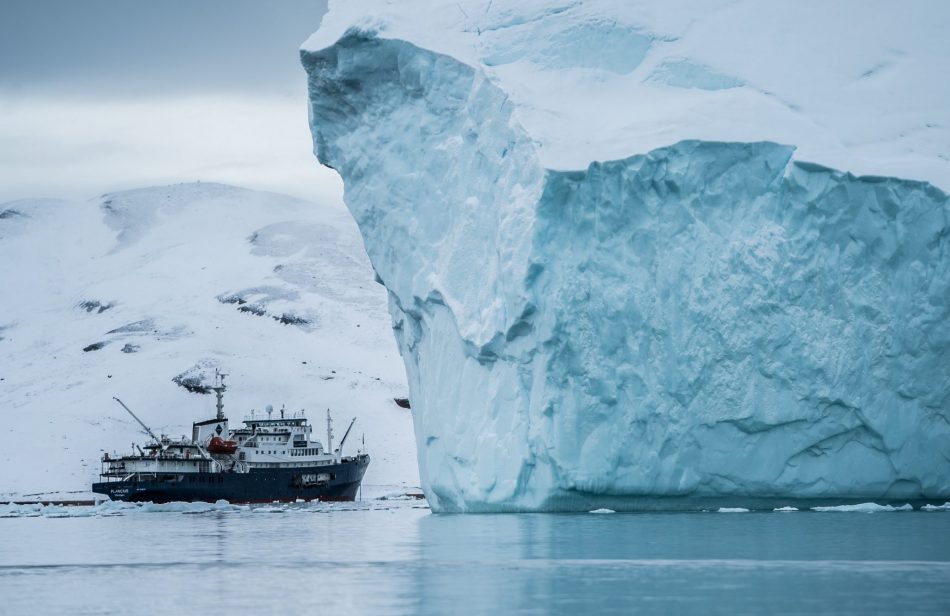 2.200
fishermen using the solution
70K
purchase orders annually
4B
DKK worth of fish annually
The Technology
The foundation for the entire app suite is the SAP Cloud Platform (Cloud Foundry). For the native iOS apps, SAP Cloud Mobile Services provides offline capabilities, push notifications, authentication, device registration, logging etc. For the web app, the latest Angular technology and Material Design framework is used, and it integrates with data in HANA like the iOS apps as well as the SAP backend.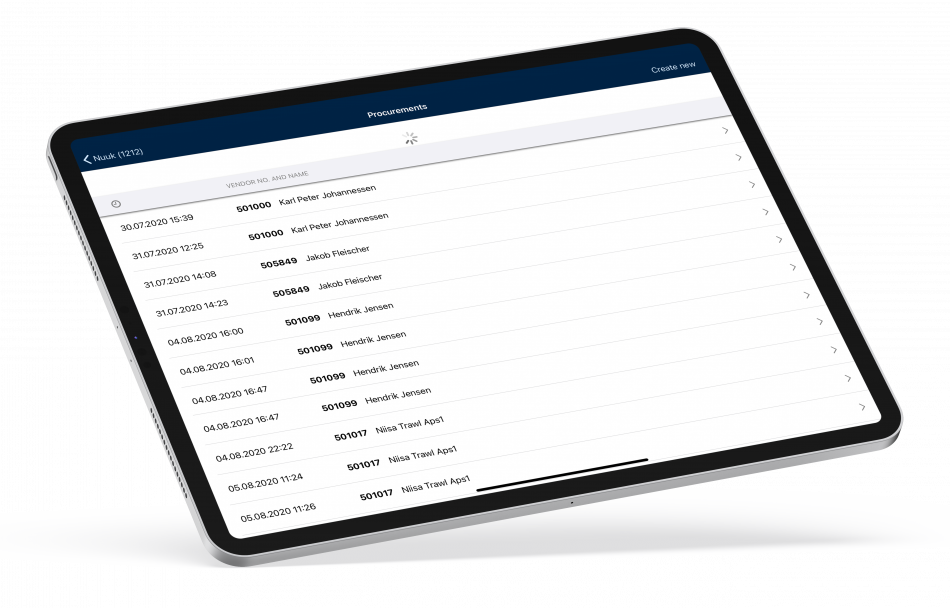 CEO, Trifork Smart Enterprise
Kevin H. Petersen